Why Hire Us?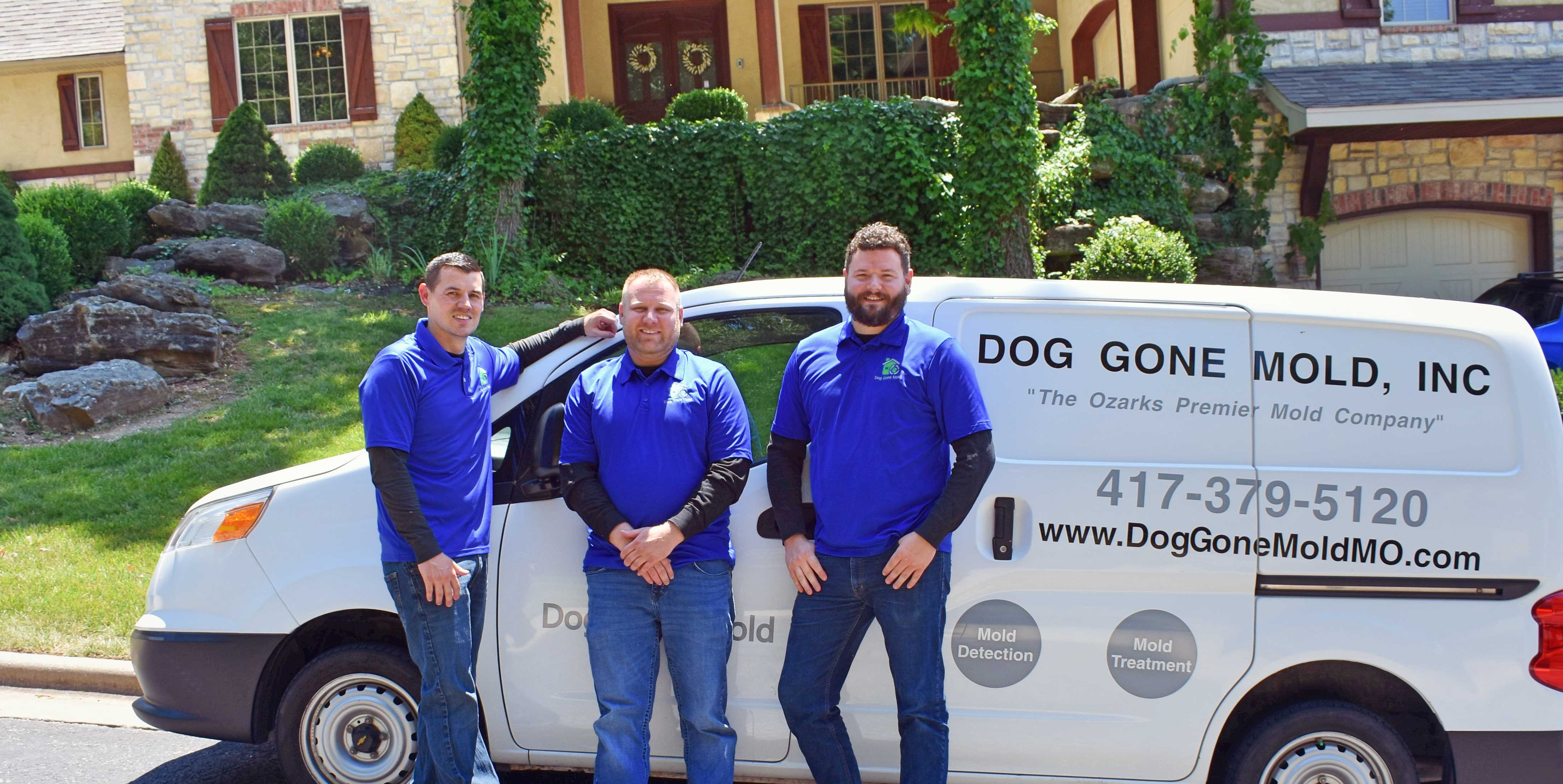 When deciding who to hire for mold removal services in Springfield Missouri, there are many important things that should be considered. For starters, you want to make sure that the mold remediation company you hire is properly trained to perform mold mitigations to keep your family healthy and safe. Certifications and training are especially important in the mold industry. Without them, how can you be certain that the company performing your mold mitigation knows what they are doing? Not only to remove the mold from your home, but to prevent it from coming back later.
Dog Gone Mold is a Certified Mold Inspection and Certified Mold Remediation Contracting firm. Not only are we able to detect mold in your home or place of business, but we are properly trained to mitigate your mold issue and keep it from coming back. Everyone that works for Dog Gone Mold has been trained to perform all the necessary steps following strict EPA guidelines for a proper and thorough mold remediation.
When Dog Gone Mold sends a crew to your home to perform a mold mitigation, they are actual employees of Dog Gone Mold. Not sub-contractors. This is important to us, because our employees must adhere to Dog Gone Mold's and the EPA's high standards.
Next, you can rest assured knowing that our mold removal company has all the proper insurances to protect you from any kind of accidental property damage that could occur during a mitigation. Don't trust your home to a fly by night company that might be here when you call, but won't be there when you need them.
If one of our competitors doesn't bother having the proper insurance to perform mold mitigations legally and doesn't even know that they are supposed to have proper insurance to perform mold mitigations, then what other shortcuts will they take when working on your home?
Dog Gone Mold not only has General Liability Insurance, but we also have Pollution Liability Insurance since we are dealing with mold. If you hire someone that does not have Pollution Liability Insurance and something goes wrong, they will not be covered, because General Liability does not cover mold claims. If they aren't covered, then the homeowner isn't covered if something were to happen to your home during a mitigation.
Our Workman's Comp Insurance not only protects our employees, but also the homeowner. If you hire a company to work on your home that does not have Workman's Comp and someone gets hurt, you could be held liable. If the injury takes place on your property and the business isn't covered, you could be sued for medical bills, loss of wages from missing work, and maybe more.
Most warranties are worthless from companies that don't know all the proper steps and EPA guidelines to take to properly mitigate mold at your home or business, because they won't honor those warranties anyway. It's important when a certified mold removal company trusts their work enough to give you a true warranty on something as unpredictable as mold.
Dog Gone Mold offers lifetime warranties! Depending on whether you had a standard mitigation or an encapsulation, our work comes with either a two, three, or five year full-coverage, bumper-to-bumper warranty on all work performed during your mitigation. After that, it's a limited lifetime warranty with discounted labor and at cost materials if ever needed. If we mitigate your mold problem and fix the potential moisture sources and mold comes back, we will come back and re-treat at no cost to you. So you can rest assured, that we will do the job right the first time.
Dog Gone Mold has 5 star reviews on Google, Bing, Facebook, Yelp, Thumbtack, Angie's List, Home Advisor, and many more. Not only do we have great reviews, we can provide potential clients with references from our past clients if you want to ask about the work we have previously performed.
Before any mold removal services are performed, Dog Gone Mold gives a detailed in-person estimate of what work needs to be done on your home. This report also goes into detail about the specific process that we take to mitigate mold and keep it from coming back. This is made specifically for your home and your situation, because every home is different and every home has different potential moisture sources causing the mold to begin with.
Everything needed to mitigate your mold problem and fix all potential moisture sources is stated in this report, so you are never left guessing on what needs to be done. Not only that, but the estimate we give you is how much you are going to pay. It is extremely rare that we've had to change an estimate because more damage than originally found during the inspection was found.
On those extremely rare occasions, no additional work was performed until we explained what additional problems were found and the homeowner agreed to the additional charges. This is extremely rare, because we are very good during the initial mold inspection process. This generally only takes place during a huge demo project where something was discovered behind hidden walls, or under hidden flooring.
So to wrap up, you should hire Dog Gone Mold for mold removal services, because we are one of the few companies that works exclusively on mold. We don't do fire restoration or carpet cleaning a couple days a week and mold the other couple days. We don't do pest control most of the time, then occasionally perform a mold mitigation. We don't do foundation repairs the majority of the time and perform mold mitigation once a week. We do mold all day, every day.
You should hire Dog Gone Mold because mold remediation is what we do and no one else does it better.