Meet The Team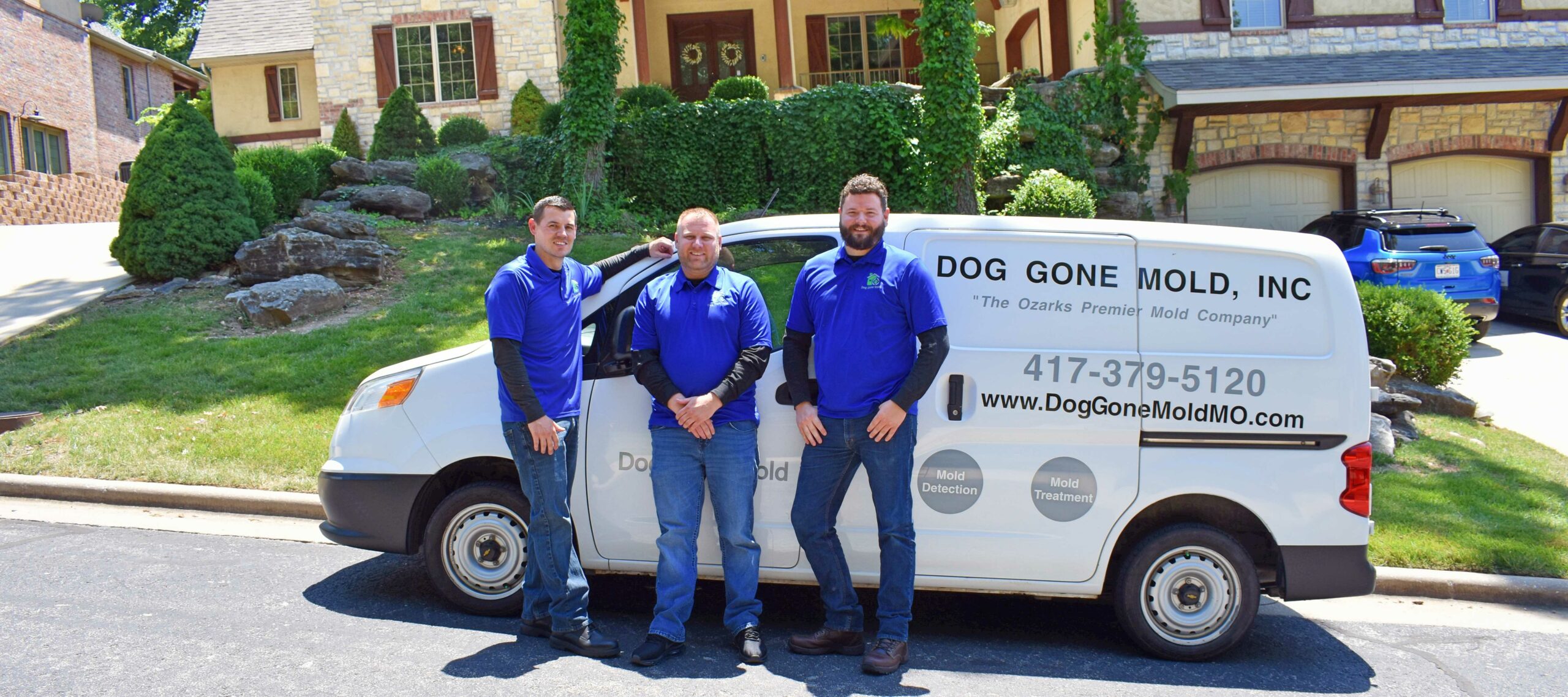 When you strive to be the very best in the business for mold removal in Springfield Missouri with fantastic customer service and top notch mold remediation expertise, it has to start from the top. At Dog Gone Mold, we pride ourselves on accepting nothing less than the best for our customers and from ourselves. We've worked hard to earn our positive reviews and our A+ Rating with the Better Business Bureau. Dog Gone Mold continues that effort everyday, because we pride ourselves on hiring natural leaders with a thirst for knowledge that are willing to learn every detail for every position. Not just their own. Meet our Leadership Team that makes it all happen.
James Stevens
Owner
Dog Gone Mold
Dog Gone Waterproofing
Dog Gone Junk
In 2014, James founded Dog Gone Mold, and more recently, Dog Gone Waterproofing. We've been fortunate enough to put together a team that we are highly confident in and proud of. We are quite pleased of our work in the Ozarks, and we like assisting our clients and resolving any mold or water issues they may have.
James spent 20 years in the hospitality industry before starting his mold removal and waterproofing businesses. He began working as a bus boy at a mom and pop restaurant when he was 14 years old and progressed through the ranks to become a server, manager, and General Manager of a fine dining establishment.
His motivation for founding his own company was to use his 20 years of experience in customer service and hospitality to the home improvement industry. One of the reasons we believe our service and attention to detail are unrivaled in our current business is because of this.
James is blessed to have a fantastic wife who is his staunchest supporter, as well as two lovely children. James believes his family motivates him into a better person in every way. They are the driving force behind everything we do, and James couldn't be happier. James was able to leave the restaurant industry and create Dog Gone Mold because of his wife's hard work in her own job and her unwavering support.
We recognize that we have been incredibly blessed in many ways, which is why giving back and serving others is one of our top priorities. We collaborate with a number of philanthropic groups in the Ozarks to assist those in need, and we aspire to one day establish our own non-profit to further serve our community.
Derrick Hoyt
Certified Lead Inspector
General Foreman
Certified Mold Inspector
Certified Mold Remediation Contractor
Certified Waterproofing Specialist
When we first started Dog Gone Mold, Derrick was one of our original hires. His excellent work ethic and desire to do more than he was asked helped him rise to the top quickly. Derrick is also our lead inspector and part of the leadership team in Dog Gone Waterproofing.
Derrick performs the mold inspections that are needed to put together a plan of action to restore the building or home. He also manages our job sites and crews to ensure every job is completed correctly and promptly.
Derrick worked for the state of Missouri for 8 years as a groundman in the outside electrical business before joining Dog Gone Mold and Dog Gone Waterproofing. He was a member of the IBEW Local 53 union in Kansas City.
Derrick currently holds the following certifications: Class A CDL, Certified Mold Inspector (CMI), and Certified Mold Remediation Contractor (CMRC). Since 2017, Derrick has been a member of the Mold Inspection Consulting and Remediation Organization (MICRO), where he is now qualified in waterproofing.
Derrick enjoys spending time with his wife and two children in his spare time. Derrick also enjoys visiting the gym and watching his children participate in sports.
Derrick lives by the adage, "Eventually, everything falls into place." Until then, laugh at the perplexity, enjoy the present, and remember that everything happens for a reason." - Albert Schweitzer
Derrick is motivated by the opportunity to assist people in restoring their property to its original state. We take great delight in knowing that their issues have been fixed, and that our clients will have no doubts about the quality of our work. Our clients can rest easy knowing that all required precautions have been taken to safeguard their investment.
Derrick's job allows him to meet new individuals every day and approach each circumstance as if it were a fresh project. Every day is a new adventure for him, and he wouldn't trade it for anything.
Jon Swingle
Operations Manager
Certified Mold Inspector
Certified Waterproofing Specialist
Jon has spent the last five years at Dog Gone Mold and is excited to expand into Dog Gone Waterproofing. Jon is in charge of the company's day-to-day operations.
Jon's typical day consists of researching and purchasing high-quality products, communicating with distributors, providing daily instructions to our staff, providing hands-on consulting to our clients, performing waterproofing and mold inspections, and ensuring that our mitigations are completed to our highest standards.
Jon was a crew leader for all mold mitigations prior to becoming the Dog Gone Operations Manager, which gave him the experience he needed to advance to Operations Manager.
Jon can be found performing as a seasoned local musician at special occasion events such as Artsfest, Cider Days, CASA Southwest Missouri events, and Queen City Shout when he is not at work. Jon also enjoys watching movies with his lovely wife and two LARGE lap dogs. Jon wouldn't give up their lives for anything.
Jon takes great delight in researching the latest technologies in the market and finding the finest solutions for our clients. Jon also enjoys the constant problem-solving aspect of his job. This business is always evolving and growing, making it an ideal fit for someone like Jon.
Liz has been a valuable part of the Dog Gone Mold team for three years. She started in our Dog Gone office as the main person that made reports and estimates for our clients.
She still performs those duties, but now as our Office Manager, she is on top of all the day to day operations throughout the office. Her leadership in the office has helped Dog Gone expand into Dog Gone Waterproofing as well.
Liz is in charge of ensuring that our day-to-day operations are conducted smoothly and on time.
She works hard to ensure that every client is aware of every detail imaginable by communicating effectively and efficiently with each team member.
When she's not actively helping customers safeguard their homes, Liz can be found cuddled up with her two kitties or spending time with her husband.
Liz's motivation comes from knowing that she is helping to safeguard families from potential health concerns and able to make a positive impact on her community.
She's always the first one to come in and the last one to go home, ensuring that every client is completely delighted with our team's work.
Liz takes great delight in making sure that every price and inspection report she sends to a client is detailed and easy to understand.
Alisa Bostick
Scheduling Coordinator
Financing Specialist
Head of Customer Relations
Alisa has been working at Dog Gone Mold for three years and is a key part of our business. She knows the entire operation from the first call from a client to how the crew members are performing in the field.
She handles all scheduling of our mold inspections and mitigations, as well as any necessary follow up appointments for our inspectors and crew members.
Alisa is the one who answers and handles almost all calls and emails. She also assists clients with queries about our inspections, reports, and processes.
Alisa gives information on our financing alternatives and, where necessary, assists with connections to other reputable contractors.
Alisa spent over 17 years in the customer service sector prior to joining Dog Gone Mold. She formerly worked for a financing firm and was a registered producer for an insurance firm.
Alisa made ties with other business owners and leaders in the community while working for those previous companies through local networking groups such as M.O.B, Chamber of Commerce, and BNI.
Alisa adores her family and cherishes the time she spends with her husband, daughter, and stepson creating memories. Over the last ten years, Alisa and her daughter have volunteered for a variety of charity activities. It's one of their favorite activities to undertake as a couple.
Alisa and her family have overcome many challenges, so she treasures large family dinners and trips together. Laughter, love, and food are the things that make her happy.
The classic adage "When life hands you lemons, make lemonade" is one of Alisa's favorites. Even when it appears like the world is crumbling, there is so much more that can be done to make it a better place. Alisa makes every effort to make everyone she meets smile, whether they are laughing at her or with her.
Alisa is determined to find the best solution for each client. She always ensures that the most correct and up-to-date information is provided in the most appropriate manner for each person we assist. She always leads with compassion and a clear path to a goal's completion.